Did you pass notes in High School or Middle High?  It seems that the most popular time in history for passing notes was in the 80's.  I was thinking about it the other day while on a quick day trip to the farm and I wondered what about the 50's, 60's, 70's or 90's?  I recently found a box of old notes in the basement and it was hilarious to read them.  Do you have any looming in a box somewhere?  In the basement? Under your bed? In the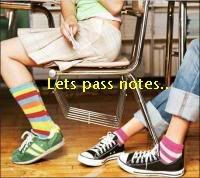 closet?
For me the best and worst part about passing notes was folding them.  I had friends who were able to fold them into all kinds of shapes but as someone who was not very creative I
had the damnedest time folding them and trying not to look like a complete moron.  Remember what it was like before texting? It was actually quite thrilling to get this tiny piece of paper in your hand wondering what message it contained.  I miss the thrill.  Do you get a thrill from a text? I didn't think so.  Did you have a preferred method of passing them?  By hand or shoving them in a locker?
So in honor of my glory days of passing notes and enjoying life as a teenager I want to bring back the art of the passing notes or at least folding them.  I'm starting a short series on the different ways you can fold your notes. You might think you are to old or young to pass notes but I say no, put down your cell phone, ipad and tablet, and enjoy a creative moment and a little human interaction.  Don't let this fun past time get lost.  Everyone enjoys little notes now and then, so leave one for your kids or your spouse.  In fact teach your kids and they can start passing notes (even mail them) to their friends during summer vacation.
So let's get down to business, today's tutorial will be a simple one I like to call the Folded Corner technique.
So, how did it turn out?  Let me know in the comment section below.  Do you have a favorite memory about passing notes let me know, I would love to hear your story.